Tuesday 22 January 2019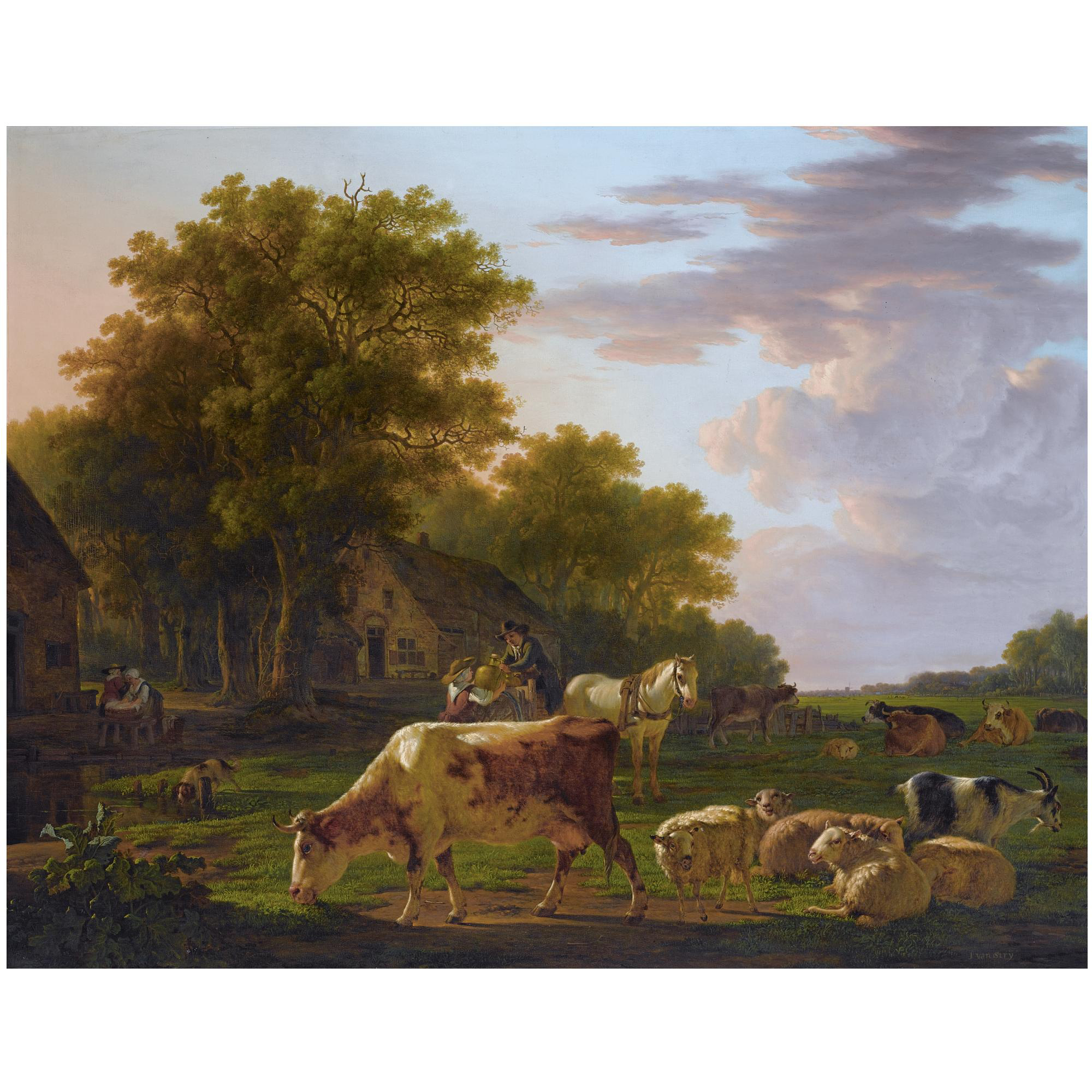 Ten years ago, when Dr F. Vriesendorp (1908 – 1998) died in Dordrecht, his children decided to place one of his most cherished paintings, the Summer landscape with cattle and sheep by Jacob van Strij, on long-term loan in the Dordrechts Museum. In 2000 the museum included the landscape in its exhibition In helder licht. Jacob en Abraham van Strij (In a clear light. Jacob and Abraham van Strij), which was to re-open our eyes to the considerable artistic merits of this pair of gifted brothers. The exhibition was indeed an eye-opener, in particular with regard to Jacob van Strij, whose first-rate paintings showed him to be every bit as talented as his brother Abraham.
Jacob van Strij was the younger of the two painter-brothers. Both took their training in Antwerp and then returned to Dordrecht, where they remained until the end of their lives. They took over their father's house- painter's workshop and were actively involved in the organisation of their town's cultural events. Abraham set up the drawing academy Pictura – still functioning today – while Jacob became one of the co-founders of the Maatschappij tot Nut van 't Algemeen (Society for public Advancement). Both were celebrated painters in their lifetime.
Unlike his older brother Abraham, who specialised in portraits and interiors, Jacob devoted himself to landscape painting. His famous 17th-century predecessor and fellow townsman Albert Cuyp was his main inspiration. Van Strij by no means followed him in a slavish manner, though a few literal copies are known. Rather, there was a healthy spirit of competition between the two artists. Borrowing motifs from his older colleague, Jacob created fresh compositions that were entirely his own. He also added elements from works by other 17th-century painters such as Paulus Potter and Adriaen van de Velde. We can tell from this that van Strij possessed a broad knowledge of the art of the Golden Age.
Although van Strij's work is often mistaken for that of Cuyp, there are clear differences: while Cuyp's landscapes are dominated by a striking sense of space and light, those of van Strij evoke an atmosphere of past times. This is partly the effect of the technical perfection with which the works have been executed. Not only is the summer landscape painted on a precious mahogany panel, every detail is rendered with meticulous accuracy. Closer examination of Jacob van Strij's oeuvre shows that not all his paintings were executed with the same degree of perfection. In fact, only a handful are of a comparable standard. Among them are the Landscape with milkmaid in the Rijksmuseum (https://www.rijksmuseum.nl/nl/collectie/SK-A-1140) and the Wooded landscape with cattle from the Dordrechts Museum (https://www.dordrechtsmuseum.nl/kunstenaars/strij-jacob-van/). One gets the impression that these works were painted for special collectors.
When, in 2006, the Vriesendorp family called on my help to market the painting, it was important to trace its exact provenance: reconstructing the history of such a fine piece from the moment of its conception not only illustrates the history of Dutch collecting, it also confirms the uniqueness of the work. Indeed, the research proved fruitful in the end: when it was decided to sell the painting through Sotheby's Amsterdam, on 13 November 2007, we were able to include in the catalogue that the painting had once belonged to the collection of Mr J.A. Blusse, an acquaintance of the artist.
---